Critical Patch Required for TDO Backups
Overview
We have detected an issue with our new TDO Backup utility (introduced in TDO Version 12.196o) that requires a patch to repair. This issue, in specific scenarios, can cause TDO data to backup in an inconsistent manner.
This is a critical security update for the TDO Backup Utility. If you are using Version 12.196o or higher, this patch that must be applied on all workstations that runs the new TDO Backup.
As a reminder, you can verify the version of TDO you have installed by clicking Help > About TDO/Submit Ticket. Combine the version and revision number and this will give you the version of TDO you are using. 
To download this patch, please click the link below to download the file. Please make sure to run this on any workstations that run TDO Backups at your office. This is fixed in versions 12.16.0 and newer of the backup application.
As a note, this patch is not necessary on TDO Version 11 or versions of TDO prior to 12.196o. If this file is run on earlier versions of TDO it will not change anything on your installation and will not cause a problem. 
 File Download
Backup Utility Patch Download
Detailed Steps
Click the above link to download
Save this executable file to your TDO Builds directory
Run this file on every workstation that utilizes the TDO Backup utility. To check which computers at your office run a TDO backup, follow the steps listed in this linked article. Checking TDO Backup Log 
When you launch the TDO Backup you will see version 12.16.0 at the top left to confirm you have the correct version
Troubleshooting 
If you are running Windows 10, you may get the following warning: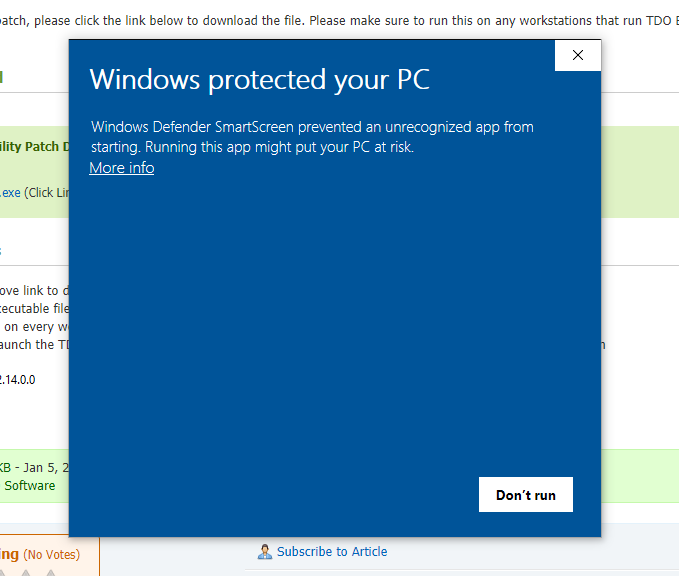 Please click on "More Info" and then "Run Anyway".
If you get the following error:
It means that the patch could not find the TDO backup utility installed on the computer you downloaded. Please make sure you run it on a computer that has TDO installed..
If you get the following compatibility warning at the end, please ignore it and click on "This program installed correctly."