How to use Internal Email and Instant Messenger
Overview

There are two types of messaging available to users of TDO to communicate among the staff.
Internal emails are used for sending longer messages.
Instant messages are for fast, short messages that are pre-programmed into TDO.
Internal Email
On the top upper left bar there are two options to choose from Open Email and Send New Email.
Click on Send New Email, select who you would like to send the email to.  Choose a category, the importance level and you can choose a patient name or leave it blank. 
Click on Send.
A red message window will pop up on the receiver's screen.
Double click on the red email window to view the message.
Instant Messenger

Set-up
In the upper right corner of TDO there is a drop down menu for Messages.
Go to To/From Setup and enter in under "name" every one's log in username for tdo.  You can also choose a background and foreground (text) color for the message window.  Make sure to not choose the same color for both or you will not be able to read the message.  You can also add a sound notification, the sound files are stored in the tdofficedata folder on the server, you will need to use the "browse" to locate them
 Go to Message Setup.  TDO comes with a set of messages already.  You can add more at the bottom of the list or delete/change existing ones.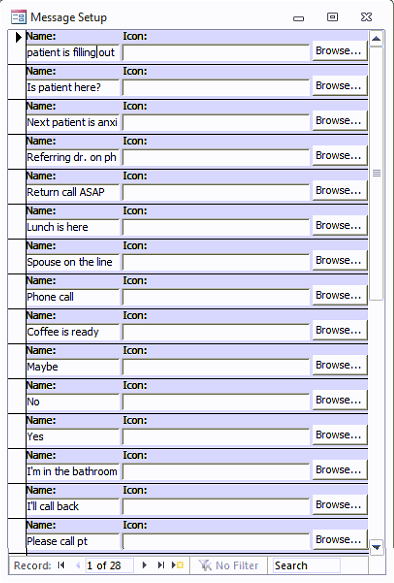 Sending a message
Go to Messages > View Messages.  You will see a window pop up.  Click on the yellow postcard icon. Choose who you want to send the message to, who it's from, what the message is and what computer you want it to go to.
IMPORTANT NOTE: The message window

must be open

in order to receive Instant Messages.  The window can be opened then minimized.
At the bottom of the window there is an option for a pop up message.  You can enter in a short message here.  When the recipient receives the Instant Message, they can hover their mouse over it and the pop up message will appear.
Single click on the message to remove it.
Instant Messages do not save so once you click on them, they are deleted.