NOTE:
It has been brought to our attention that WIA drivers are not currently working with the 'Scan' function in TDO Version 12 (as of 12.338).
For more information, please see this page.
Overview
Included in this article is the information that should be given to your IT Professional in order to setup and properly configure TDO for the first time, or update your existing TDO installation to the latest release of Version 12. These instructions apply only to Version 12. If you are looking for instructions for TDO Version 11, please click here.
Depending on your situation, you may be trying to install in two different fashions:
If you have multiple computers that will be using TDO, follow the steps listed below for TDO Server Installation and TDO Workstation Installation directions
If you have only one workstation that will be using TDO, follow the steps below for TDO Standalone directions.
If you only need instructions for updating TDO workstations, please click here to jump to that section.
Requirements - Prior to Installing
Replicated Practices:
If your Practice is Replicated (multiple locations with a unified database), stop here and Contact TDO Support if you wish to update TDO. Replicated Databases cannot be updated without the help of TDO's IT Team.
Prior to installing TDO, it is necessary to ensure that all computer meet the Version 12 Requirements and that Server is set up correctly:
Please follow the steps listed in How to install TDO on Windows Server x64 2008, 2008R2, and 2012 prior to installing TDO.
On the server drive where TDO is to be installed, create a TDO directory and both a TDO Builds and TDOfficeData subdirectory
Browse to TDO4Endo.com and login with the doctor's credentials
On the Download page, download the following files to the TDO Builds directory
Required Files for TDO
SetupDotNet45.exe
SetupImages6.exe
SetupDrugs.exe
SetupRuntime.exe
SQL2008Express.exe or SQL2008ExpressX64.exe (depending on the server)
and also make sure to download the most recent TDO Professional Installer on the same page (usually labeled TDOProfessional121xx.exe)
Canadian offices must also have the latest SetupCanada.exe file which can be downloaded on our website.
TDO Server Installation
Additional Server requirements
Open port 4150 and 8739 for all traffic in Windows Firewall, and add exclusions for 

SqlServer.exe and SQLBrowser.exe (to find the path to these files, find the processes in Task Manager, right-click, open file location)

Ensure the server has a static IP address
RAID 5 are not recommended for SQL Server
Class C IP addresses should be used
Back Up Your Data Before Updating TDO
If you are updating TDO on your Server (as opposed to installing for the first time) - ensure that you back up your data before proceeding.
From the TDO Builds folder, run the TDO Professional installer
When it gets to installation type, choose Server.

During an initial installation of or update to TDO 12.3 or higher, you have the option to encrypt the database file. Please read here on that process.
Ensure that you point the Server Directory to the TDOfficeData folder you previously created and then click Verify. The installer will check that all requirements have been met.
Note: If an item is showing as red, click on the blue requirement link.
After clicking the Requirement link, it will attempt to run the corresponding file (as seen below). If Yes is clicked, it will attempt to run the file. If No is clicked, it will launch an article on our Knowledgebase explaining the requirement.
When all requirements are met, click Next
A message will appear asking you to ensure that you have a current backup before proceeding. Once you have ensured that you have a backup, click Yes. (If you are installing for the first time, you don't need to check for a backup).
At this point, the installation will begin. Allow the install to completely finish prior to installing on any workstations. You will see a message when complete that looks like this:
It will be followed by a Success message like this:
After clicking Finish, run the TDO installer again on the server, this time selecting Workstation. 
Share out the TDO directory to Everyone with Full Read/Write Privileges making sure that the Patients.mdf file gets shared out to each workstation. If the file does not have proper sharing settings, workstations may be unable to see/access the file and the installation will not complete successfully.
TROUBLESHOOTING:
If any issues arise with the installation of SQL during the server installation, you may view the log file to troubleshoot further. It is located at: 
C:\Program Files\Microsoft SQL Server\100\Setup Bootstrap\Log
TDO needs to be installed by an account with administrator access to the local computer. TDO 12 can be installed with the 'server directory' set using either the UNC path (\\[servername]\TDO\TDOfficeData) or a network drive (T:\TDOfficeData). Either way it is important to use the server's hostname and NOT the IP Address in the path.
Make sure that the workstation is set up using TDO Best Practices guide.
Installation
From the mapped TDO Builds folder, run the TDOProfessional12xxx.exe installer and select workstation as the Installation type. 
Run the TDO Professional Installer and select Workstation as the install type. 
Ensure that the Destination directory is pointing to either:
C:\Program Files\TDOffice (Windows x86) or C:\Program Files (x86)\TDOffice (Windows x64)
Do not install TDO pointing to the root of the C Drive or any other location
And once you have selected it. Click Verify. The installer will verify that all requirements have been met. Click Next to continue with the installation.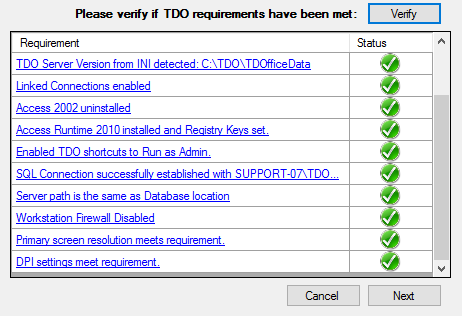 After completion, it will display a message like this:
After installation has completed, call TDO Technical Support to unlock each workstation for use.
TROUBLESHOOTING
If you are unable to find the server directory previously mapped, Disable User Account Controls and reboot the computer. Rerun the installer. 
If you receive a message that there is no database file found in that directory, verify that the Patients.mdf on Server has the proper permissions and Everyone has a full read/write access.
If you receive a message that TDO.mdw could not be opened, reboot the computer and rerun the installer
TDO Standalone Installation
Users install TDO as a Standalone typically when only one workstation will be using TDO. A Standalone installs TDO as both a server and a workstation at the same time on the same computer. 
Because this workstation will be functioning as a server, it is necessary to first create a TDO directory with a TDO Builds and TDOfficedata subdirectory. 
After you have done this, from the TDO Builds folder run the TDOProfessional11.3xx.exe installer and for installation type, choose Standalone.
Make sure the Local Destination path is in the correct location, and make sure the server directory is pointing to the proper data path. 
Follow the prompts seen on screen to finish installing.
Additional important steps
Ensure that a backup is configured
Complete the remaining task listed in TDO Best Practices
Verify that any peripheral devices are installed and configured accordingly.